Students records remain in the Accelerus database perpetually. There is only one base record per student for all the years of the database that stores data such as their code, name and gender. However, cyclically, there is other student data that changes: their enrolments, their year levels, home groups, etc. Together, this is what you see in a student's window when you open it.
If you open a student's record in one academic cycle it will reflect the enrolments and cohort memberships applicable at that time, and a different set at another time.
Students are identified by their student code which, usually, will not change over the life of the Accelerus database. It is recommended that the same student code is used as the one assigned in the school's administration program. As it is usual for student data to be imported into Accelerus from other databases at the school, keeping codes consistent will aid data transfer, as well as allow photos to be imported more easily.
Adding students to Accelerus, and deleting those added in error, is a role that may only be undertaken by those who have a school role and have the permission Administer Students activated.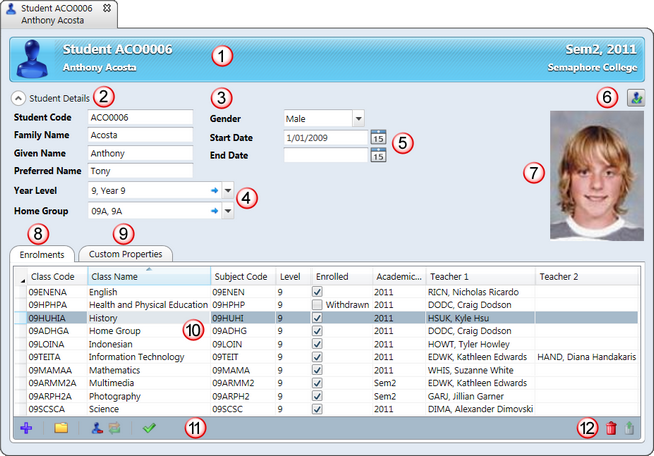 The general features of a student's window to become familiar with are covered below.