When adding new data, eg a new teacher or subject, there is a logical sequence that needs to be followed. Firstly, teachers must be added to the database before subjects can be added. Likewise, classes can only be added once subjects have been set up, and so forth.
Generally, the bulk of the data used in Accelerus is imported from the school's administration or timetable system. However, from time to time, manual entry of a new student or teacher, a missed subject, class, etc, may need to be undertaken. Some types of entities may not be imported at all; new records must be added manually, eg report runs.
When adding records, a similar process is followed for the main data types, whether a teacher, class or cohort group, even though the data fields vary for each type of record.
The general steps for adding a new record are:
| | |
| --- | --- |
| • | Go to the File menu and select New, then the particular entity you require, eg Teacher. |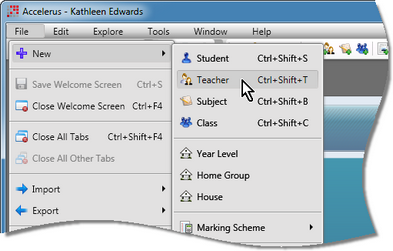 OR
| | |
| --- | --- |
| • | Click the appropriate New icon in the toolbar, if one is available. |

OR
| | |
| --- | --- |
| • | Enter the keyboard shortcut that may apply, usually found on the menus, eg Ctrl Shift T for a new teacher. |
OR
| | |
| --- | --- |
| • | Click the New icon in the Explorer for the particular entity. |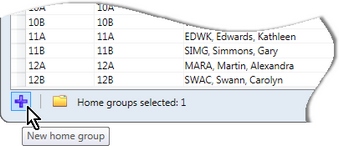 | | |
| --- | --- |
| • | Enter the details for the new record, tabbing through the fields as you enter data in them. |
Note that the mandatory fields will have a red exclamation mark until valid data is entered into them.
•

Save the record by clicking the Save icon or pressing

Ctrl S

.
| | |
| --- | --- |
| • | Close the window by clicking the close icon in its tab or selecting an appropriate close option from the right click menu. |