A menu bar and toolbar will be found at the top of the screen in Accelerus. The shortcut icons may be used as an alternative to menu options.
The menus and their options, and the shortcut icons, will vary:
| | |
| --- | --- |
| • | According to the window that is currently being worked on, |
| | |
| --- | --- |
| • | Based on the type of role you have been assigned - school, subject, class or cohort - and with the permissions assigned to your role, and |
| | |
| --- | --- |
| • | When you are working in the database compared to an offline file. |
However, some menus are available for all users, even if the options thereon vary. These are File, Edit, Window and Help. Similarly, with the toolbars, some shortcut icons will be available in most windows in Accelerus, eg icons allowing you to open the Welcome screen, to save, cut, copy and paste, etc.
Some of the important aspects of the Accelerus menus and toolbars to note are:
| | |
| --- | --- |
| • | To find out the function of any icon in Accelerus, hover your mouse over the icon to see its tooltip. |
| | |
| --- | --- |
| • | Right click context menus abound in Accelerus, giving you another option to the menu bar and toolbar icons. |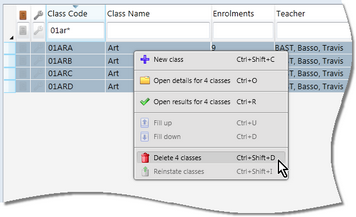 | | |
| --- | --- |
| • | Where a shortcut icon cannot be found in the toolbar at the top of the Accelerus screen, check the bottom of the window you have open as it is likely to have its own set of icons, for functions applying to the particular window. |
For example, below is the set of shortcut icons available when in a student window.

•

Alt keys and keyboard shortcuts are available for all of the most commonly-used options, eg

Ctrl S

may be used instead of clicking the Save icon.
The keyboard shortcuts are shown on each menu, as shown below - Ctrl X for Cut, Ctrl C for Copy, etc. The Alt keys - the underlined letter in menus - appear when you hold down the Alt key on your keyboard.