Explorer windows are available for most entity types in Accelerus, through which, in addition to Quick Find, records may be searched and opened.
The Explorer windows contain a table in which the records belonging to that entity are displayed. For example, the Subject Explorer only displays current subject records.
All of the Explorer windows are opened through the Explore menu, with some of the most commonly-used ones also having icons in the toolbar.

Both the Quick Find and Explorer windows allow you to search for and open a tabbed window for a record. However, Explorer windows are much more powerful and flexible than Quick Find.
Although each Explorer reflects the fields, and may contain processes, that are applicable only to the particular type of entity, the features of the Explorers are consistent across all types of entities.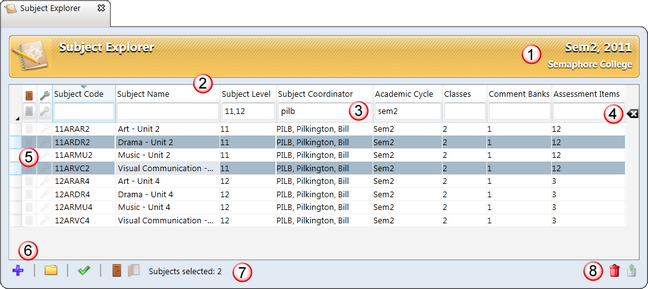 Common features found in all Explorers are outlined below:
Apart from standard procedures for searching, including the use of wildcards, selecting and opening records that are found throughout Accelerus, the following are the additional features of the Explorer windows that make them much more powerful tools.