There are two special aspects to sorting in Accelerus that apply to selection windows:
| | |
| --- | --- |
| • | When you open a selection window, the first column displayed, with the exception of the special dropdown columns found in some windows, determines the order in which the records will be sorted. Usually the first column is the record code. |
However you may want to move columns so that another column is first. For example, if in a selection window where students are being selected, you may want to move the family name column to the first column position so that the students are always sorted alphabetically based on their family name.
| | |
| --- | --- |
| • | The records sort in alphanumerical order generally, but in the following circumstances Accelerus sorts the data in a special way: |
| | |
| --- | --- |
| ➢ | Subject levels sort in accordance with the order that the levels appear in the Subject Levels tab of the School Settings window. |
| | |
| --- | --- |
| ➢ | Where combinations of numbers and letters are used that may indicate year or subject levels, eg 07ENG, MAT10, these records are sorted in a specific manner, so that the records appear in a logical sequence, rather than a strict alphanumeric one. |
As shown below, the codes starting 07 and 7 have both between treated as if they were 7, and 07EN does not appear after 0EN as it would in an alphanumeric sort. Also, the codes beginning 0, 1, 10 and 11 have been treated as numbers and not as they would in an alphanumeric sort in which case they would appear in the following order: 0EN, 10EN, 11EN, 1EN.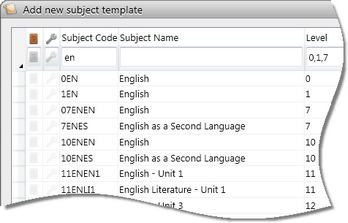 | | |
| --- | --- |
| ➢ | Results in list type marking schemes always sort in the order in which the marking scheme values have been set up. Therefore, when teachers are working in a class or subject results windows, when they sort their students on the basis of their grades in any columns using list schemes, they will appear from highest to lowest, or vice versa, and not in alphabetical order. |
For example, where the scheme below has been set up, the students will sort in A, U, S, R, N order and not A, N, R, S, U.