Because teachers are in the database perpetually and only have one base record for all this time, there are day to day issues of which Accelerus administrators should be aware.
If a teacher leaves, they may be non-current, but their record still remains in the database even years later. Therefore, there is the potential that the teacher code assigned to them will clash with one being assigned to a new teacher. When you try to save a new teacher record where the code is already in use, you will receive a message such as this: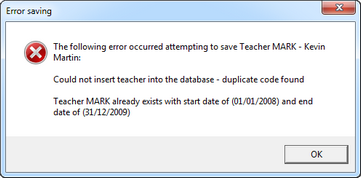 The message informs you of the start and end date of the previous teacher so that you may go back to the appropriate cycles in the database and change the code of the previous teacher, allowing you to assign it to the new teacher.
Alternatively, you may choose to display non-current teachers in the Explorers so that you can find and change the record in the current academic cycles.
| | |
| --- | --- |
| • | Previous years' data affected |
When you change a teacher's record, eg their name, it affects all previous years' data. For example, if you were to print a report out from a previous year, it will have the teacher's new name on it and not the name they had at the time.
For most schools this is not an issue. Hard copies of the old reports are usually kept, on the one hand. Also, the teacher's new name does not change the fact that it was the same person who wrote the report.
If this is of concern to the school, another teacher record will need to be added for the teacher, using the new name. An end date needs to be added to the old record and all of the teacher's classes, subjects and cohort groups will need to be reassigned to the new teacher record.
| | |
| --- | --- |
| • | New code with new name, but same password |
If a teacher changes their family name, it is likely that their code will need to change also as, typically, teacher codes are based on the teacher's family name. It can be too confusing to have the family name out of step with the coding system used at the school.
You may change the teacher's code in Accelerus, in the same way as you would change any other fields for the teacher, in order to keep it consistent. No data will be lost and all records in the database will be changed internally so that they are referring to the new teacher code.
| | |
| --- | --- |
| | If you change a teacher's code in Accelerus, this does not automatically change the teacher's password. This will remain set to whatever it was prior to the change of the name. The automatic assigning of the password based on the teacher's code only occurs when a teacher is first added to the database or when the database is first converted from MarkBook to Accelerus. |