Accelerus access is based on security levels so that different users have different roles and permissions. Each school defines its own roles and the permissions that go with each of them.
There are four levels of roles:
Therefore, for example, a class teacher may only be able to access his or her classes, whereas a subject coordinator may be given rights to all subjects they coordinate.
Further, within each level, different roles may be defined, each with different permissions. For example, there may be a school level role that only allows users to only view all students' results, and another that allows the results to be modified.
Teachers are assigned to roles and these roles determine the level of access they have.
Because of these roles and permissions, to gain access to Accelerus, whether as a teacher or as the Accelerus administrator, whether directly into the database or an offline file, all users must login by entering a username and password. On the basis of the login details, users will be afforded access to different types of records, windows, functionality and menus.
Roles are set up, and permission levels granted, in the Security window, accessed via the Tools menu.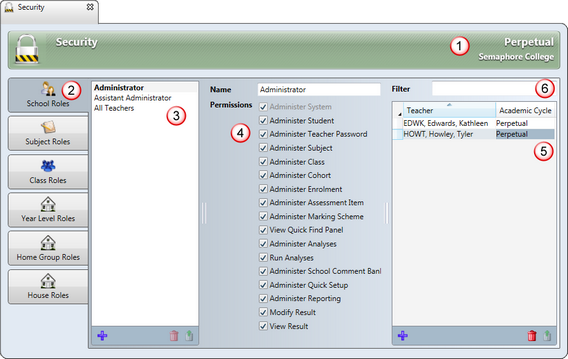 The Security window is made up of several tabs, each of which has a set of panes. The School Roles tab is somewhat different to the other tabs, as covered in the School Roles section. Overall, however, the general features of the window are as follows: