A subject, as far as Accelerus is concerned, is a unique unit of study with a lifespan. For example, it could be an annual subject, a semester-based unit, part of a six week rotation or a trimester in length.
Each school must determine the lifespans of their subjects and these greatly influence the way that a school sets up its academic cycle structure in the School Settings window.
The following question needs to be asked when deciding on the academic cycles of your subjects:
| | |
| --- | --- |
| ❖ | For what period of time does the subject have the same students in the same classes, with the same teacher, being taught the same subject matter and reported on in the same manner? |
Schools may, and often do, have a combination of cycles for their different subjects: you may have some that are annual, some semester and others term-based, for example.
If you add your subjects to annual cycles, each year you can have the same set of subjects, if you wish, or a completely different set.
Likewise, if you decide on semester-based cycles, each semester you can have a set of subjects applying to a semester time period. These may be coded identically.
And so on for other types of cycles.
However, you may not have any subjects with the same code in overlapping cycles. For example, you can not have 09TEWW in a semester cycle and an annual cycle in the same year. At any point in time, there can only be one in existence.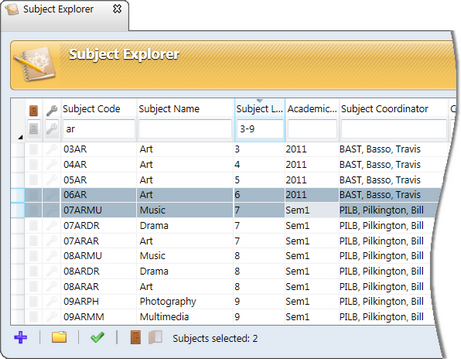 Schools have several options when deciding on the structure of their subjects:
| | |
| --- | --- |
| • | Primary schools, generally, stick to annual subjects as students are usually in the same classes with the same teachers all year. |
As seen above, all the year 3 to 6 subjects belong to the annual cycle 2011.
| | |
| --- | --- |
| • | In Secondary schools, there can be quite a a combination of different timespans, eg for core subjects compared to electives. |
In these cases, many schools prefer to treat all their subjects as separate semester units, even the subjects that, strictly speaking, are annual.
This has advantages:
| | |
| --- | --- |
| ➢ | The data is usually coming from a timetable that is already semesterised. |
| | |
| --- | --- |
| ➢ | There is greater consistency and it not so difficult trying to keep up with what runs for how long. |
| | |
| --- | --- |
| ➢ | It is much easier to set up assessment items as they may be consistent across all subjects rather than having to add a suffix to the end of them for each report run to make them unique. They and the subjects may be rolled over easily using the Rollover window. |
| | |
| --- | --- |
| ➢ | Setting up the report run and templates is much more efficient as the templates may be copied for reuse each semester. They do not have to be recreated as the assessment item codes in them are the same each semester. |
As seen above, all of the secondary subjects belong to Sem1.
Once subjects have been assigned to an academic cycle, it is not possible to simply change this via a subject's record.

You may reimport the subjects using a CSV file to reassign the subjects to another academic cycles, but only if you are reimporting them into a cycle that is a child of the original one. For example, if subjects were imported into 2011 and you want them to be assigned to Sem2, you may reimport them into Sem2. The preprocess stage will display a message such as that below and allow you to change the subjects.

It will not allow you to do it the other way, however, ie up the cycle tree. You can only delete the subjects via the Subject Explorer which means all dependent data will also be deleted, eg classes, enrolments, assessment items and results for the subjects. You must then reimport them into the correct cycle. Alternatively, correct it in next year's reports.