The underlying database structure of Accelerus is quite complex, set up to allow multiple academic cycles of data to be stored and accessed. Having an understanding of some of the structures of the Accelerus database will make setting up Accelerus for the first time and in subsequent cycles easier. Integral to this structure are its entities.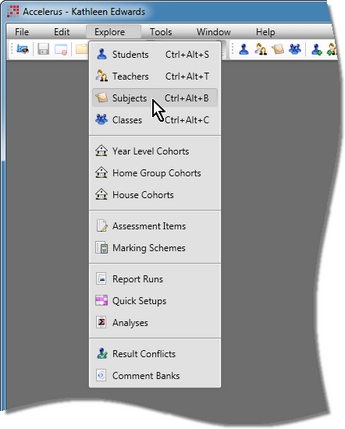 Entities are a type of record, eg teachers, students, subjects, classes and cohort groupings. Each entity type has its own set of properties and fields. Also, entities have relationships with each other, ie they interlinked. For example, classes belong to subjects, have students enrolled in them and are taught by teachers.
The Explore menu, available to those with a school level role, lists all of the entities in Accelerus. The majority of these entities are available to Accelerus administrators only, either through the Quick Find pane or the relevant Explorer window. Each will open in its own tabbed window, displaying the details for the currently selected academic cycles.
Many entities, eg Report Runs, Quick Setups and Analyses, have their own, unique and specific functions. The entities with which most users will deal are the types of records those working in a school environment are familiar with - students, teachers, subject, classes, and the various cohort groups such as year levels.
The more specialised entities are usually only dealt with by Accelerus administrators.
At the subject level, those with a subject role may need to bring up the results of the students in subjects they coordinate for the purpose of checking them and/or making changes.
Most commonly, those with a class role, ie most teachers, will be working on class entities, ie the classes of students that they teach, assigning results and comments to these students.
With many of the entities, their data is initially imported into the Accelerus database from the school's computerised administration systems, although all can also be set up manually. However, manual data entry is usually only used to add the odd new student or teacher, change enrolments and other ongoing maintenance functions, rather than bulk data entry of records at the beginning of an academic cycle.
All of these processes work with entities and throughout Accelerus, the same general procedures are used in creating new records and for exploring, opening or deleting existing records, whether it is classes or students, subjects or cohort groups.
However, some of the entities have specific features and procedures that apply only to them. For example, you may move students in a class from one class to another for a Class record only.