The middle column in the Restrictions table is where you select from a list of operators, eg Equal to, In, Like, etc.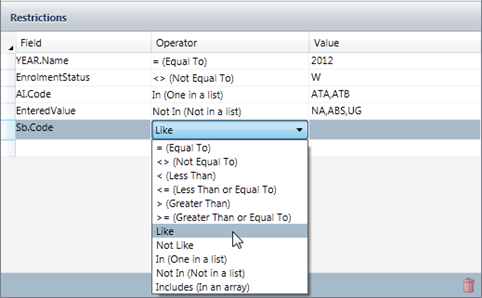 Most of the operators will be familiar, but others may be less so. However, all of the operators must be used correctly, even those that seem straightforward, and several have very specific requirements.
The requirements and factors you must take into account for each operator are covered below.
Equal To (=) and Not Equal To (<>) require exact matches.
Take the following restriction example:
It is likely that no data will be extracted, if used, as the assessment item code must literally equal all of "Item1,Item2" and it unlikely you would have an assessment item in the database coded in this way. If what you are wanting is an assessment item equal to Item1 or one that is equal to Item2, you must use an In operator, not Equal To.
When using the four greater and less than operators (>, >=, <, <=) with numeric values, their usage is logical, eg EnteredValue >= 65.
However, most of the data in your Accelerus database is not numeric, but text or strings. Using the Greater and Less Than operators with text is not straightforward, as string and not numeric comparisons are being made. For example, to extract results that use an A to E marking scheme, where the students attained a B result or better, entering
will extract C, D and E results and not A and Bs, because they are greater in an alphanumeric sort than B.
In this case, you would need to enter:
On the other hand, if the results are graded A+, A, A-, B+, B, B-, etc, neither <= nor >= will produce the exact results required. This is because the alphabetical sort order is A, A+, A-, B, B+, B-, etc. B+ and B- are both greater than B!
Therefore, in such cases, you should consider either using the ResultOrdinal field for the restriction or an In operator, this latter option being the recommendation, eg:
| | |
| --- | --- |
| • | EnteredValue In A+,A,B+,B |
The Like operator allows selection to be restricted to those values which contain the specified text in the Value field. For example, you might want to select all assessment item codes which begin with WR, or have WR within them.
Not Like is the opposite to Like, whereby selection is to be restricted to those elements which do not have the specified text within them, eg all assessment items which do not begin with WR.
If you use the Like or Not Like operators, you must add at least one wildcard character in the appropriate place. For example:
| | |
| --- | --- |
| • | AI.Code Not Like WR*,AT* |
Use the In operator when you want to match one of a set of values. The converse of In is Not In, which allows you to match all but the listed values.
When using In or Not In, the list of values must be separated by commas, without spaces. For example, you may want to restrict your analysis to three subjects, say 07ENG, 08MAT and 07SCI, which would be inserted as:
| | |
| --- | --- |
| • | Sb.Code In 07ENG,08MAT,07SCI |
Therefore, the In operator can be thought of as using a combination of equals and logical OR, ie the subject code is equal to 07ENG or is equal to 08MAT or is equal to 07SCI.
NB You may not use wildcard characters with In / Not In.

The Includes operator is only used with arrays of values, ie in conjunction with the following available fields which are all multi-valued fields:
| | |
| --- | --- |
| • | All of the array fields found under the All Roles sections for cohorts, subjects and classes, eg Cl.Roles.Code. |
For example, you may want to restrict the data to only assessment items that include the tag SEM1. As assessment items may have multiple tags, these are an array of values, eg [T1,SEM1].
If the assessment item's tags array includes SEM1, the data is to be included.
The AI.Tags and AI.Tags.Comma fields and the various All Roles available fields are all multi-valued fields. Therefore, they must be dealt with in a different manner to single-valued fields.
You cannot use the same operators as you would with single value fields. For example, you cannot use In and Not In with these.
Instead, in the array fields, you should use the Includes operator, eg:
In the case of the comma separated value fields, eg AI.Tags.Comma, you would use Like or Not Like, eg:
| | |
| --- | --- |
| • | AI.Tags.Comma Like *SEM1* |
Note that when performing calculations on any of the array fields, you may use the various functions that work on a list, eg to extract the first or last value of an array, as found in the Calculation Editor.