Parameters are placeholders so that, when the analysis is run, the user may specify the values that are to be inserted in place of the parameters. Parameters allow an analysis to be run again and again without having to open and modify it when some elements change. For example, a CurrentYear parameter may be inserted so that the same analysis can be run for every different year, without having to change the analysis every year.
You may add multiple parameters in the one analysis. For example, you may have an archival analysis that you run every semester for every year level, with all results printed compactly for each student. Instead of having to change the academic cycles, year level and/or tags of the analysis to extract the correct data each report run, placeholders are inserted in the analysis where the data varies.
When the analysis is run from the Analysis Explorer, the user is prompted to enter values for the parameters found in the analysis.
As shown below, where an analysis is being run, the user is being prompted for three different parameter values: the semester and year of the data, and the year level of the students. The user enters or selects the required values. These values replace the parameter fields in the analysis so that the analysis output reflects the values entered.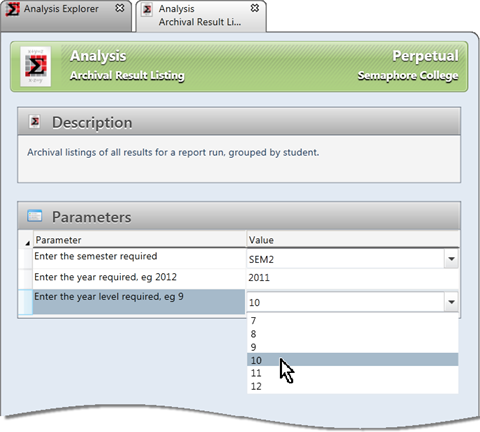 In order for a user to be able to run analyses, they must be logged directly into the Accelerus database and have been assigned to a school role, in the Security window, that has Run Analyses permission.