Accelerus allows formulae to be entered in assessment items so that the results stored in the items are not entered manually, but are automatically calculated.
Calculations can be performed on the results of a student in the class, across all students of the class or all students in the subject.
In the example below, a series of assessment items have been set up for assignments. To produce an average score for each student for the assignments, another assessment item has been created to store the calculated results and, in this, an average formula was entered, ie into ATAVG.
In addition, a further item has been added which then averages all of the student averages across the class - ATCLAVG.
The last two assessment items shown here have a calculation icon in their row, indicating they contain formulae and will store the calculated averages for each student and the class.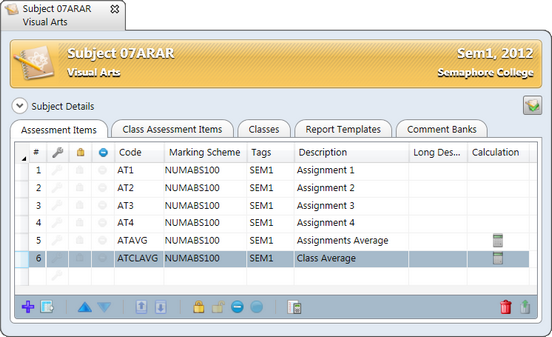 As shown below in the class results window, the calculated columns have a calculator icon in their header and their columns are shaded. Teachers are not able to enter data into these calculated columns.
As teachers enter results for a student in the source assessment items, the student's average will be automatically calculated and this, in turn, will cause the recalculation of the across class average. Below AT4 has been changed for Marina Collier, causing not only her average to be recalculated, but the the class average which applies to every student.