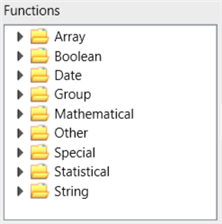 A major part of the building of a formula type calculation in an assessment item, as well as when setting up analyses, involves using functions.
Functions are built-in procedures used to evaluate, make calculations on, or transform data. When you specify a function, a set of operations built into the function are executed, without you having to identify each operation separately. This makes creating formulae easier.
In order to define expressions, users need to be familiar with the general principles of building formulae and the types of functions available across other applications, eg Microsoft Excel. Many of the functions in Accelerus are similar to those available in Microsoft Excel.
The functions available in the Calculation Editor, brought up when a Formula calculation is being added to an assessment item, whether in the Accelerus program or via the web, are grouped under 9 different branches. All of the functions available are covered below, with details of the arguments required for each, their syntax, the type of data that is returned, and straightforward examples of each.