The Translation Table process begins at the top row of the table and, for each student, checks to see if all the criteria stipulated in the row are met. If they are, the student's result is translated to the Result value for the row. If they are not met, the process moves to the second row checking whether the criteria for the second Result value are met, and continues down the rows until all conditions in a row are met.
Because of this process of working from the top down, it is important that the Result rows in the Translation Table progress from best to worst result and all of the rows of the same value are grouped together.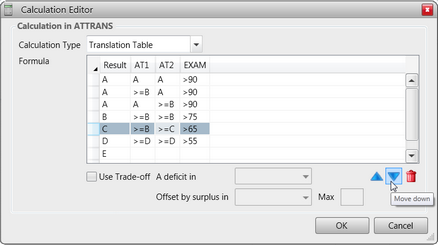 If not entered in the correct order, ensure you move the rows up or down into the order in which they are to be evaluated.
Generally, the order of values entered in the Translation Table should match the order of the values in the target item's marking scheme.
Note also, that the marking scheme's order of values is used to determine the maximum trade-offs allowed, with each progressional step being one trade-off point. For example, in an A to E marking scheme, if a maximum trade-off deficit of 2 is allowed, C or D would be acceptable for a B value.
When the Translation Table is being evaluated, if no row's criteria can be met, the student is not assigned a result.
A blank cell anywhere in the translation table indicates that there is no criterion for the particular source item, in which case any result, including a blank result, fulfils this criterion.
| | |
| --- | --- |
| | Leave the last row of a Translation Table totally blank to assign the last Result to all students who do not meet any of the other rows' criteria, eg if any of their results are blank or an exceptional value that you may have set up in your marking scheme. |