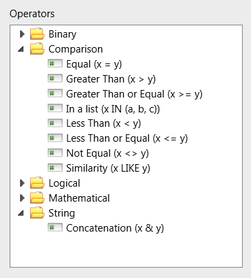 When setting up formulae in Accelerus, you may use any of the operators which are available in the Calculation Editor's Operators pane.
These are divided into five branches and many will be familiar, particularly those in the Mathematical and Comparison branches, eg Addition, Subtraction, Greater Than, and so forth.
Others may not be so familiar, but these are not commonly used, eg the Binary operators.
Each branch and the operators within these are outlined below, with examples of each being provided.