Accelerus allows a school to define multiple roles for each class, subject or cohort group. For example, you may have two teachers teaching particular classes, or multiple teachers coordinating a cohort group such as a home room or year level. These roles are defined in the Accelerus Security window, accessed via the Tools menu.
Where there are multiple teachers in different roles, schools may want to insert the names of all teachers in the roles on student reports, not just the first one, especially in the case of the class teachers.
In order to facilitate this, an exhaustive list of options is available.
Under each Cohort, Subject and Class branch of the Accelerus Fields pane, in addition to the individual roles defined, eg Teacher1 and Teacher 2, an All Roles branch can be found.
As shown here, in the example of the Class entity, all of the different combinations of name fields are available, with codes beginning Cl.Roles.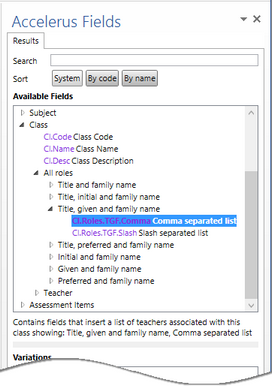 For each of these combinations, two options are available – comma separated and slash separated lists.
For example, the Cl.Roles.TPF.Comma field would print:
| | |
| --- | --- |
| • | Mr Jack Smith if there was only one teacher of the class. |
| | |
| --- | --- |
| • | Mr Jack Smith and Ms Sue Davies if there were two teachers. |
| | |
| --- | --- |
| • | Mr Jack Smith, Ms Sue Davies and Mr Kyle Hsu if there were three. |
The Slash version of each field separates multiple teacher names with a slash, eg Ms Brown / Mrs Zhou.
| | |
| --- | --- |
| • | You may use these fields across the board in your templates, if you wish, instead of the individual fields for the teacher's title, family name, etc. |

| | |
| --- | --- |
| • | Where there is only one teacher, these fields will only print the one teacher's name and will exclude the comma and slash. |

| | |
| --- | --- |
| • | If there are two teachers, the comma fields will only put and between the two names, eg Mr Smith and Ms Brown. |

| | |
| --- | --- |
| • | If your teacher records do not have titles, the names will print without a title and there will not be extra space where the title should be. |

| | |
| --- | --- |
| • | It there are multiple roles and, in different classes, different roles are missing, no gaps will appear. For example, if four roles have been defined and roles one and four have teachers assigned, gaps will not appear for the missing teachers in roles two and three. |