When copying assessment items in a subject, you may select the subject itself to copy to, ie copy within the same subject.
In some instances, the subject itself was selected in error and, therefore, when the potential duplication box is displayed, you would skip instances of the same item being found in the same subject.
However, copying to the subject itself is very handy when you have annual subjects, in particular. In this case, you may have a set of assessment items for semester 1 and require an identical or very similar set for semester 2. All of the semester 1's items end with 1. You may copy the semester 1 items back into the same subject and have the semester 2 items automatically renumbered at the same time, ie the 1 suffix will be replaced with 2.
As seen below, we are copying from 07ENEN to 07ENG, ie the same subject, and because the item WHE1 exists, it will create a new coded WHE2. We can then use this for semester 2.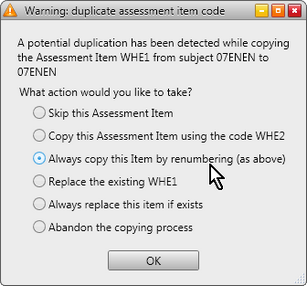 | | |
| --- | --- |
| | Note, however, that when the items are copied, they will still have the same tags in the duplicated set as in the original. You will need to open the subject, change the first of the items copied to the correct tags and then fill this down to the other copied assessment items. |