| | |
| --- | --- |
| • | Obtain an Absence XML file for the semester from your CASES21 administrator and store it in a location accessible to the Accelerus administrator's computer. |
| | |
| --- | --- |
| • | Be aware of where the absence data is to be stored and where it is to be reported, eg in assessment items and templates generated from the Quick Setup window, or whether the student custom property needs to be added manually to a template, eg a cover page. |
| | |
| --- | --- |
| • | In Accelerus, go to File > Import > Student Absence XML. |
•

In the

Import Student Absences window:
➢

Select the required one of the four format option buttons, that allow the absence data to be printed just as a number, or in t

wo preset options, eg Absent for 2.5 days this semester, or you can specify your own format.

| | |
| --- | --- |
| ➢ | If you select the Specify your own format option, you will be presented with three fields where you may compose the required sentence for situations where the student has no days absent, 1 day or multiple days. |
In so doing, you may click the dropdown arrow at the end of each field and select from the available fields, eg Given Name which will insert <Given Name> in the field.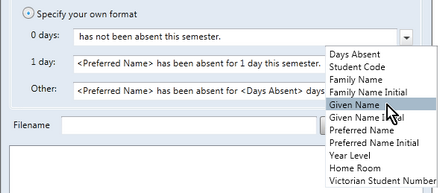 | | |
| --- | --- |
| ➢ | Click the browse button at the end of the Filename field and go to the location in which you have stored the Absence XML, and select the file. |
➢

Click the Preprocess button to

preview the impact before you import.
| | |
| --- | --- |
| ➢ | Open any issue, warning and error branches to reveal the details for each student. |

| | |
| --- | --- |
| ➢ | Make any changes to the action to be taken for any listed issues, by clicking the appropriate dropdown list option in the right of the pane. |
| | |
| --- | --- |
| ➢ | When ready to to proceed, click the Import button. |
The import process will search for the appropriate one of the custom student properties coded AVATT1 or AVATT2 and, if not found, will create one. The absence data, in the format selected, is stored in the custom property.
Schools that selected the Attendance field in the Quick Setup window will have that field in their templates, referring to the data in the custom property. Schools that do not, need to insert the custom property in the appropriate location in their templates.