What you may select for inclusion on the AusVELS reports is limited in several ways:
| | |
| --- | --- |
| • | Firstly, the Quick Setup window indicates the areas that may be selected – these are the non-shaded cells of the table. |
In many cases the shaded or unavailable areas appear as a result of the subject mapping selections made in the Quick Setup Structure window.
| | |
| --- | --- |
| • | Other limitations are determined by the structure selected, eg only Primary text box fields appear in the Primary structures. Also, there are the differences between the Catholic and Government structures which restrict selections. |
•

The report type, eg Sum, Full, etc, will constrain the selections that may be made in the domain and dimension cells, and therefore, what appears in a cell –

A

,

R

and/or

S

– when you click it.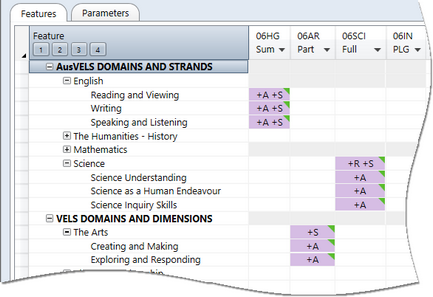 For instance, as shown with subject 06SCI above which is to have a full-page report, we can assess the Science strands, and choose to have the domain score and graphic appear in the printed report for 06SCI as well as in the summary report: R and S at the domain level and A for strands.
On the other hand, in the part-page report for 06AR, The Arts domain can only appear on the summary report – R cannot be selected for part-page reports.
Note that this varies for Catholic configurations where a school has chosen to report at the domain and strand level for a particular domain.
| | |
| --- | --- |
| • | The English and Mathematics strands do not allow selection at the domain level – the dimensions which must be assessed and are reported, whether just on the summary page or on both the summary and full page report. |
| | |
| --- | --- |
| • | In the Standard Text Boxes sections, many fields only become available for particular report types. |
For example, when PLG is selected as the report type, only the Personal Learning Goals fields, within the Standard Text Boxes branches, are available, as shown below.
| | |
| --- | --- |
| • | Some field selections in the Standard Text Boxes sections are set automatically and cannot be changed. For example, with part page reports, the Single overall comment field is automatically selected, and one of the three teacher name fields is mandatory. |