Report template slots determine the order in which the templates making up the portion are to be printed. The order in which the slots appear is the order in which they will print, with Move up and Move down arrow icons allowing you to move slots into the correct order, if necessary.
You may name the slots as you wish, eg use numeric names to indicate the report's relative position, or use descriptive names that clearly identify the subjects that are to be included in the slots or the purpose of the slot.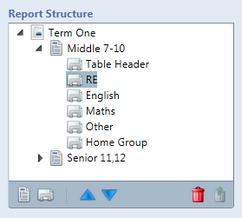 In the example shown here, the Middle 7-10 portion has 6 slots – Table Header, RE, English, etc. In this case, the heading will print first, then the Religious Education reports, English and Maths, followed by the rest of the subjects. The last slot is for a home group template.
Note that in this example, we have a slot for non-subject specific templates – Table Heading. Rather than subjects appearing in this slot, we would have a general template, which does not apply to a specific subject.
Where a slot contains both general and subject templates, the general templates print before the subject templates. Then, the subject templates in the slot print in alphabetical order based on their subject name.
A subject may be added to each slot more than once and you may assign subjects to more than one slot position. For example, you may create a slot called Top Home Room that includes a subject template for the Home Room report containing just work habits assessed by the Home Room teacher. Further down, another may be created, eg End Home Room, which contains the number of days absent or a general comment from the Home Room teacher.